With the increased emphasis on the impact of stress for health care professionals, many organizations and nursing programs have identified resources for formal stress reduction and mitigation. See Figure 12.7[1] for an illustration of stress management. Many of these models and resources have emerged as a professional necessity to help facilitate coping for individuals encountering innumerable job-related stressors. The U.S. Department of Veterans Affairs developed a Stress First Aid (SFA) framework to improve stress management in oneself and in others.[2] Many organizations are moving to frameworks such as the Stress First Aid framework and other stress management programs to help provide health care professionals with the knowledge, skills, and resources to aid in stress management reduction.
The Stress First Aid (SFA) framework offers the health care professional an opportunity to examine stress along a continuum, from normal stress that allows for adaptive functioning to signs of harmful stress requiring intensive intervention. It provides health care professionals with core functions for progressing through stress identification and resolution. The seven core functions are: Check, Coordinate, Cover, Calm, Connect, Competence, and Confidence.[3] The SFA model encourages health care professionals to self-reflect on a stress experience and take action to facilitate self-resolution and resource identification.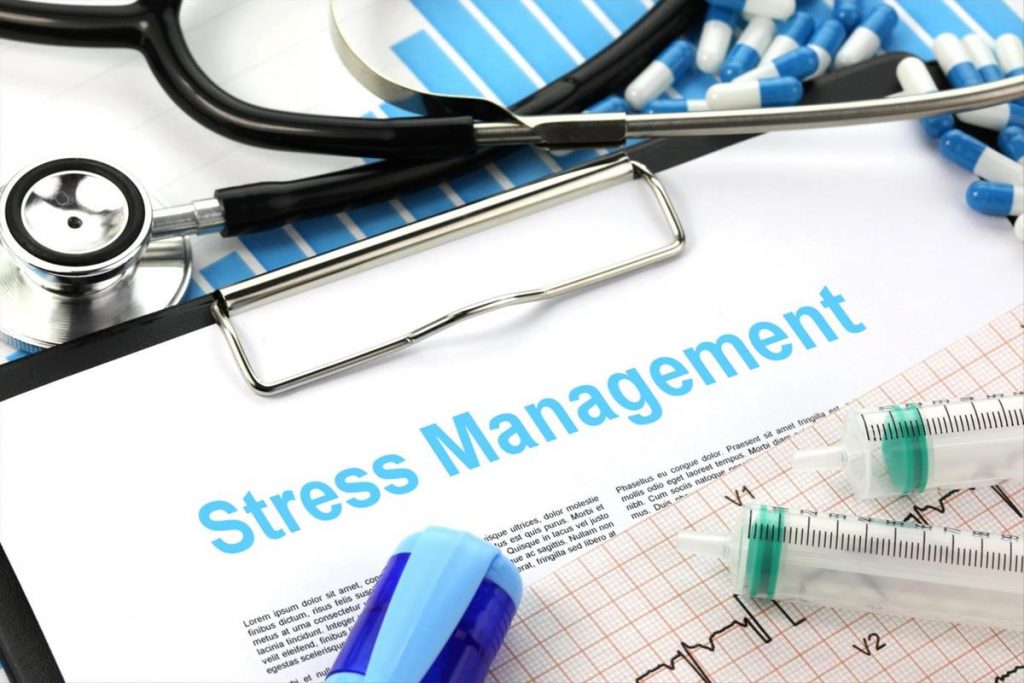 Many health care organizations embrace wellness as a foundational tenet of workplace culture. They have dedicated wellness committees or wellness champions who promote initiatives aimed at improving stress management among staff.[4] These formalized committees or positions reflect organizational commitment to the importance of self-care and personal wellness. When nursing graduates are interviewing for their first nursing positions, wellness initiatives may be a consideration when exploring professional employment benefits and organizational support structures.
The impact of wellness and stress-reduction strategies is often included in new hire orientation and nurse residency programs. Many nurse residency programs formally acknowledge in their curriculum that novice nurses must be educated about the signs of stress.[5] Novice nurses are particularly vulnerable to harmful stressors during their role transition. Many organizations provide training about strategies and resources to assist with coping and stress reduction, which is referred to as resiliency training programs.[6]  fosters feelings of mindfulness, sensitivity to self, and professional development techniques that contribute to long-term engagement in the profession.
---
Educational sessions that foster feelings of mindfulness, sensitivity to self, and cultivate professional development techniques that contribute to long-term engagement in the profession.