12.6 Mitigating Stress With Self-Care
As previously discussed, the action of providing nursing care can result in significant stress. The stress response is exacerbated when experiencing extreme or repeated stressors, such as client deaths. In some health care settings, nurses do not have time to resolve grief from one loss before another death occurs. This lack of time to resolve grief has been exacerbated during the COVID-19 pandemic where many units continually filled with clients requiring high levels of skilled nursing care. Additionally, some patients with COVID died without the face-to-face support of friends and family due to visitor restrictions. This resulted in the end-of-life transition supported solely by the health care staff. Many nurses felt additional stress due to supporting both the client and the client's family during this challenging time.
and burnout occur frequently with nurses and other health care professionals who experience cumulative deaths that are not addressed therapeutically. Compassion fatigue is a state of chronic and continuous self-sacrifice and/or prolonged exposure to difficult situations that affect a health care professional's physical, emotional, and spiritual well-being. This can lead to a person being unable to care for or empathize with someone's suffering. Additionally, many individuals who experience compassion fatigue may become detached from the emotions associated with the care experience or client needs. These individuals can often appear numb to the severity of the circumstance of the events that are occurring. can be manifested physically and psychologically with a loss of motivation. It can be triggered by workplace demands, lack of resources to perform work professionally and safely, interpersonal relationship stressors, or work policies that can lead to diminished caring and cynicism.[1] See Figure 12.4[2] for an image depicting a nurse at home experiencing burnout due to exposure to multiple competing demands of work, school, and family responsibilities.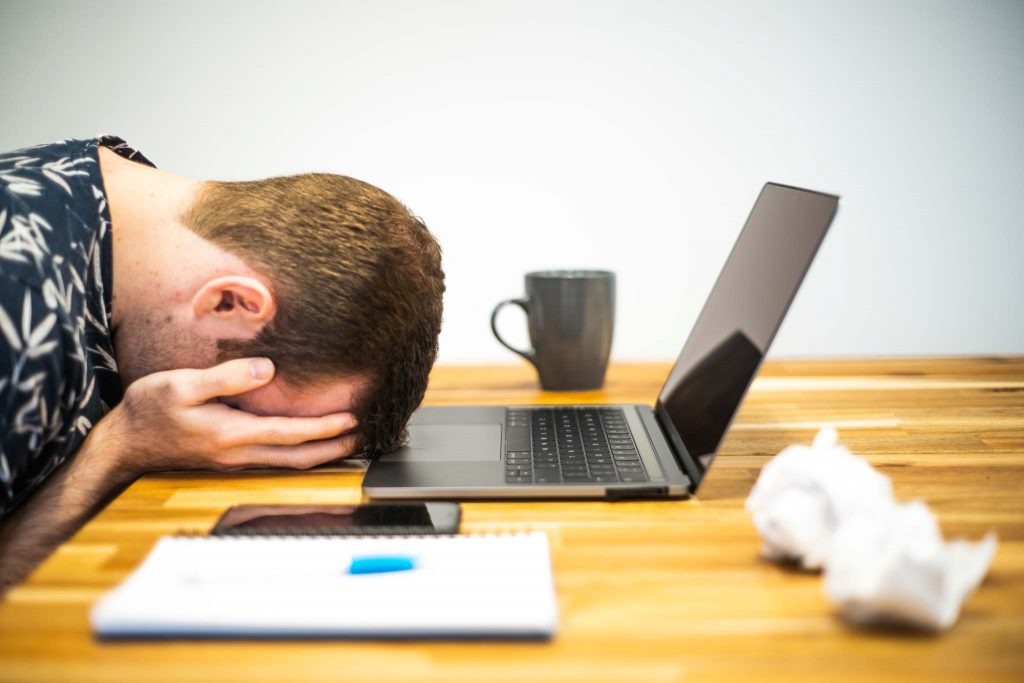 With the significant dangers of burnout and compassion fatigue within the nursing profession, it is important to acknowledge actions and strategies to facilitate self-care. Self-care can occur in many actions that individuals take to maintain self-health and is critically important for preventing compassion fatigue and burnout.
To facilitate self-care, nurses must recognize the need to take time off, seek out individual healthy coping mechanisms, and voice concerns within their workplace. Prayer, meditation, exercise, art, and music are examples of healthy coping mechanisms that nurses can use for self-care. Nurses should reflect on what actions bring them personal satisfaction and rejuvenation. These strategies should then be purposefully included to help reduce the influence of work-related stressors. For example, perhaps you are a nurse working in a busy Level 1 trauma center and emergency department. You are nearing the end of your third 12-hour shift and have the following day off. The unit manager approaches you and states that there has been an ill call for tomorrow's evening shift. You are offered premium pay to come in and work. Although there is a part of you that is interested in receiving the premium pay, you also take a moment to think about your current situation. You are tired from working three 12-hour shifts the last three days and had plans to go to your child's baseball game tomorrow evening. Taking stock of these reflective thoughts, you politely decline the additional shift. Acknowledging your fatigue and the satisfaction that you will feel in attending your child's game are important parts of facilitating self-care. Although you could have chosen to work the shift, taking time to look inwardly on what will bring about the greatest rejuvenation and avoid burnout will help cultivate professional engagement.
Additionally, nurses must recognize when outside resources are needed to mitigate stress and facilitate self-care. Many organizations sponsor employee assistance programs that provide counseling services. These programs can be of great value and benefit in allowing individuals to share both individual and employment stressors. For example, employee assistance programs can address employment-related stressors, such as cumulative client deaths, as well as personal challenges impacting one's work role, such as a family illness. The support of an impartial, trained professional can be very helpful as individuals navigate through stressful stimuli.
There are specific stress stimuli that may require specialized intervention. For example, after a client death resulting from trauma, many organizations hold debriefing sessions to allow individuals who participated in care to come together to verbalize their feelings. These sessions are often held with the support of chaplains to facilitate individual coping and verbalization of feelings. Debriefing sessions can be very helpful as individuals experience collegial support in working through traumatic stress stimuli.
Read more about the role of chaplains in facilitating coping in the "Spirituality" chapter in Open RN Nursing Fundamentals.
Reflective Questions
Throughout your nursing career, there will be times to stop and pay attention to warning signs of compassion fatigue and burnout. Here are some questions to consider:
Has my behavior changed?
Do I communicate differently with others?
What destructive habits tempt me?
Do I project my inner pain onto others?[3]
Strategies for Self-Care
By becoming self-aware regarding signs of stress, you can implement self-care strategies to prevent compassion fatigue and burnout. Use the following "A's" to assist in building resilience, connection, and compassion:
Attention: Become aware of your physical, psychological, social, and spiritual health. For what are you grateful? What are your areas of improvement? This protects you from drifting through life on autopilot.
Acknowledgement: Honestly look at all you have witnessed as a health care professional. What insight have you experienced? Acknowledging the pain of loss you have witnessed protects you from invalidating the experiences.
Affection: Choose to look at yourself with kindness and warmth. Affection prevents you from becoming bitter and "being too hard" on yourself.
Acceptance: Choose to be at peace and welcome all aspects of yourself. By accepting both your talents and imperfections, you can protect yourself from impatience, victim mentality, and blame.[4]
Cultivating Care of Self
Taking care of oneself can feel as if it goes against the nature of the nursing role, but it is a vital component for professional success. Provision 5 of the American Nurses Association Code of Ethics states, "The nurse owes the same duties to self as to others, including the responsibility to promote health and safety, preserve wholeness of character and integrity, maintain competence, and continue personal and professional growth."[5] In a profession where one spends most of their time thinking about the needs of others, it can be difficult to recognize when special care and attention is needed for one's own health. However, there are many strategies that nurses can use to help them navigate stress and prioritize their own health and wellness. Although not every strategy may be "right" for every nurse, it is critical for nurses to find actionable interventions to help them address their own stress.
Here are some examples of stress management strategies:
Meditation. Meditation can induce feelings of calm and clear-headedness, improving concentration and attention. Research has shown that meditation increases the brain's gray matter density, which can reduce sensitivity to pain, enhance the immune system, help regulate difficult emotions, and relieve stress. Mindfulness meditation in particular has been proven helpful for people with depression and anxiety, cancer, fibromyalgia, chronic pain, rheumatoid arthritis, type 2 diabetes, chronic fatigue syndrome, and cardiovascular disease.[6] See Figure 12.5[7] for an image of an individual participating in meditation.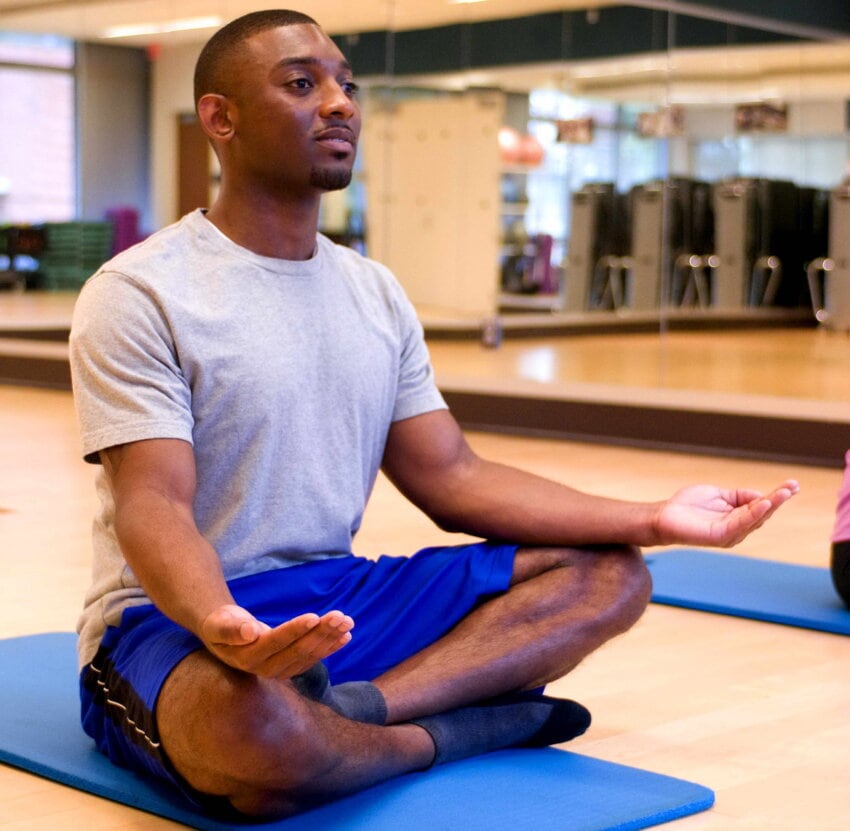 Yoga. Yoga is a centuries-old spiritual practice that creates a sense of union within the practitioner through physical postures, ethical behaviors, and breath expansion. The systematic practice of yoga has been found to reduce inflammation and stress, decrease depression and anxiety, lower blood pressure, and increase feelings of well-being.[8] See Figure 12.6[9] for an image of an individual participating in yoga.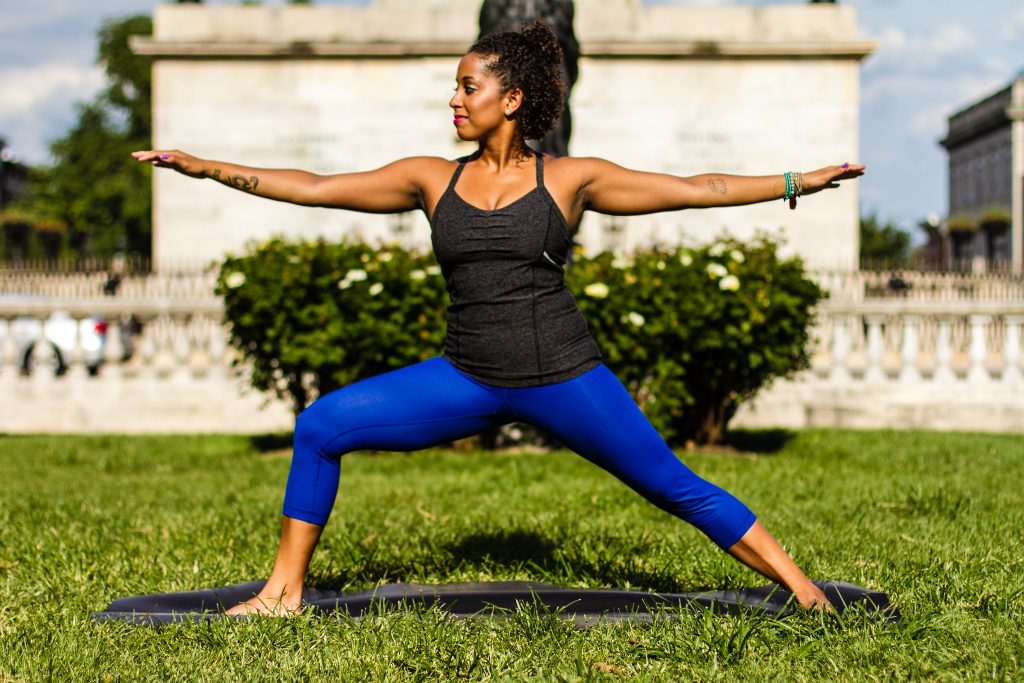 Explore additional free resources regarding well-being and resilience:
---
A state of chronic and continuous self-sacrifice and/or prolonged exposure to difficult situations that affect a health care professional's physical, emotional, and spiritual well-being.
A condition manifested physically and psychologically with a loss of motivation.
Awareness that arises through paying attention, on purpose, in the present moment, and nonjudgmentally.