11.4 Applying for a Nursing Position
Many students begin applying for their first nursing position before they graduate or take the NCLEX-RN. Read tips for employment in the following box.
Tips for Employment
Reflect on previous clinical rotations and the experience. It is helpful to apply at agencies where you have had a positive learning experience.
Obtain employment at a health care agency as a nursing assistant, licensed practical/vocational nurse (LPN/VN), or intern prior to graduation. This allows you to experience the workplace culture. Intern and extern roles allow the nursing student to perform nursing skills under the supervision of an RN, often with a temporary permit obtained from their State Board of Nursing (SBON). After receiving your RN license, it is often an easier transition into the nursing role. Working at the facility prior to graduation also increases familiarity with the environment, electronic health record, and health care team.
During your job-search process, it is helpful to begin by reviewing Medicare's quality ratings of health care agencies and providers. The "overall star rating" is based on how well the agency performs on various quality indicators and patient satisfaction surveys.
When applying for a job position, a resume and/or portfolio is typically included as part of the application process.
Resume
A is a document that highlights one's background, education, skills, and accomplishments to potential employers. There are many types of resume formats, and some individuals elect to use online services to create a professional resume.
A resume typically includes the following components:
Personal contact information
Professional objective statement
Education
Work experience
Awards and achievements
Community service
Languages, hobbies, volunteer experiences (optional)
When creating a resume, it is helpful to highlight skills and experience that separate you from the other candidates applying for the position. It is also helpful to tailor your resume to the skills and experience expressed in the job description.
Portfolio
A is a compilation of materials showcasing examples of previous work demonstrating one's skills, qualifications, education, training, and experience. They can be submitted in electronic or paper form. See Figure 11.3[1] for an image of a sample electronic portfolio.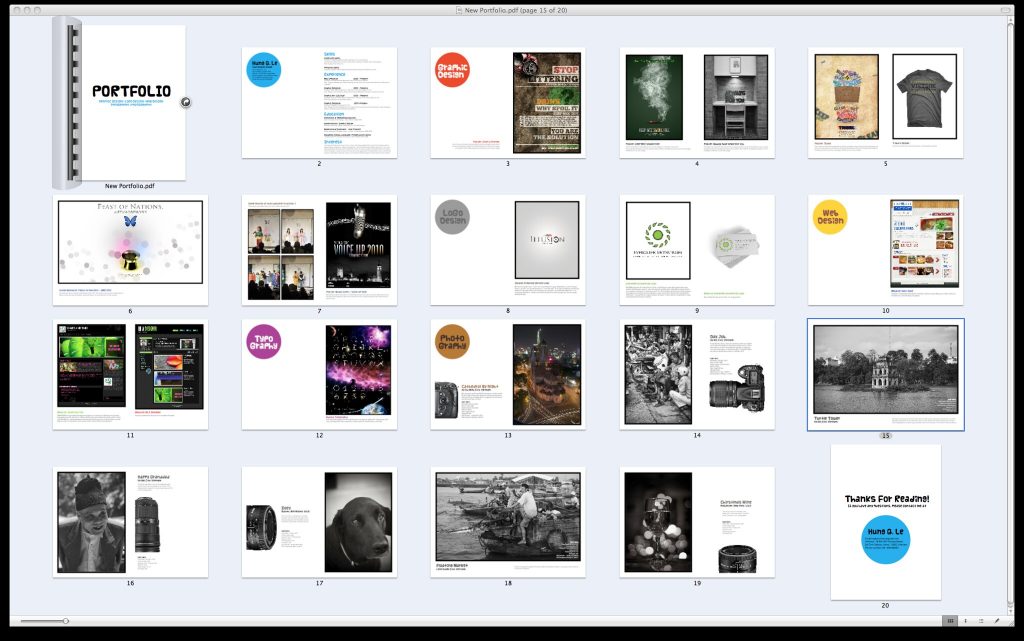 Some schools of nursing require portfolios to be completed throughout the program. These portfolios are a representation of work demonstrating the student's accomplishments.
Portfolios typically include the following:
Personal contact information
Resume
Professional goals
Skilled work with examples (e.g., a nursing care plan, process recording, teaching plan, etc.)
Accomplishments (e.g., dean's list)
Degrees
Certifications (e.g., CPR)
Professional memberships (e.g., Student Nurse Association)
Community service activities
References (if requested)
Interviewing
After applying for a position and submitting your resume and/or portfolio, you may be contacted to set up an interview. When you're interviewing for an RN position, you will be asked about your skills, experience, and your education. Some questions may be basic, such as, "Why did you become a nurse?" Other questions may be more difficult to answer, such as "Explain your strengths and weaknesses as an RN." See Figure 11.4[2] for a simulated interview.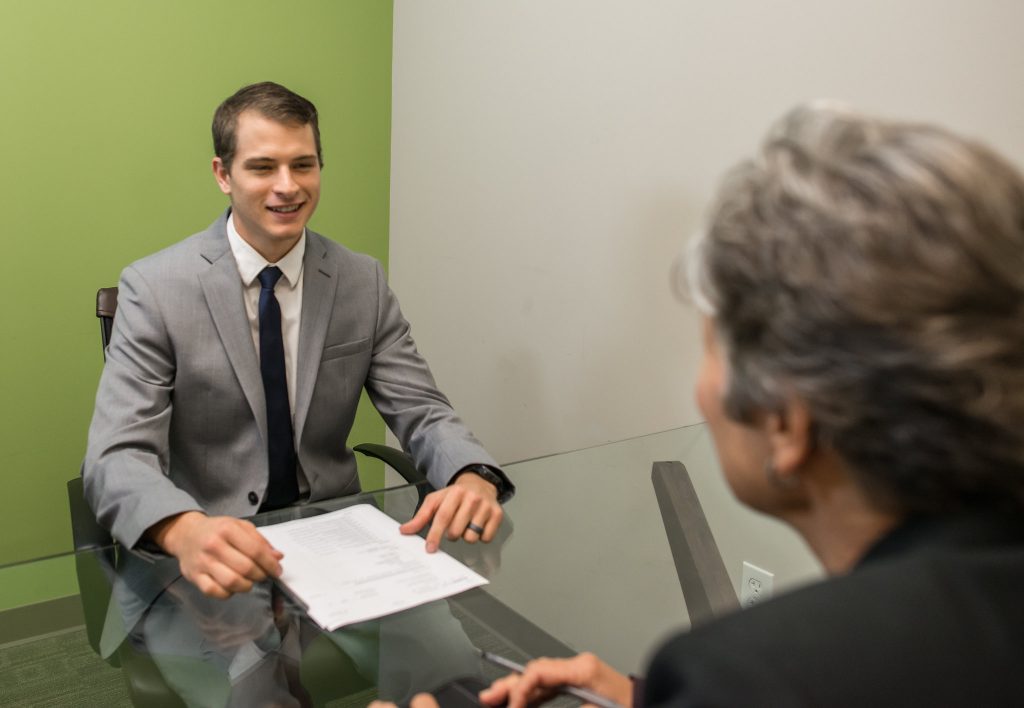 Interviewing for a new position can cause anxiety because you are required to answer questions and provide examples. A strategy to make the interview process easier and reduce anxiety is to prepare answers for commonly asked questions prior to the interview. Completing this task will help you prepare and increase your confidence. See common interview questions in the following box. It is helpful to tailor your answers to the skills and experience provided in the position description of the job you are seeking.
Common Questions During an Interview
Tell me about yourself.
Why did you become an RN?
What is your educational background?
What are your future goals?
What are your strengths?
What are your weaknesses?
Give an example of how you were a good team player.
Tell me about a time you cared for a challenging patient and how you handled the situation.
Prior to your interview, research the organization's website. Be aware of their mission and vision statements and any "current events" in the news. Interviewers are impressed when an applicant has taken the time to learn about the organization and demonstrates interest.
Interviews may take place face-to-face, virtually on a computer, or over the phone. If you are interviewing face-to-face or virtually, dress for success in professional attire. If interviewing virtually, be sure to decrease distractions at home by turning off your phone and conducting the interview in a quiet space. Establish good eye contact with the interviewer and speak in a confident manner. Remember, this is the time to "sell your nursing self," so highlight your achievements and what you are proud of accomplishing. See additional tips for interviews in the following box.
Tips for Interviews
Dress in business casual attire.
Arrive ten minutes early for the interview.
Bring copies of your resume or portfolio.
Silence your cell phone.
Do not chew gum.
Answer all questions honestly and thoroughly. Provide examples when feasible.
Ask questions.
At the end, thank the interviewer and ask when you will be notified if you are offered the position.
The interview process is also an opportunity for you to determine if this position and agency is a good fit for you. Remember that it is important to select an agency that has good ratings for providing safe patient care and patient satisfaction. It is not worth taking a position that may place your nursing license at risk. Ask questions of the interviewer to clarify your understanding of the job position and expectations, agency policies, and workplace culture. Suggested interview questions are listed in the following box.
Questions for Interviewer
How long is the orientation process?
How long will I have access to a mentor?
Do you have a nurse residency program?
What system do you use for the electronic health record?
What is the weekend rotation requirement?
What are the holiday requirements?
What are the staffing ratios?
What are your policies regarding "mandatory overtime" and "off with benefits"?
How long are the shifts?
What is your policy for tuition reimbursement?
What is the salary range?
How does this organization handle error reporting?
How has this organization adopted The Joint Commission's Culture of Safety, such as the Just Culture model?
Do you have an ethics committee or other resources for nurses?
---
A document that highlights one's background, education, skills, and accomplishments to potential employers.
A compilation of materials showcasing examples of previous work demonstrating one's skills, qualifications, education, training, and experience.