5.11 Anticholinergics
Open Resources for Nursing (Open RN)
Ipratropium is an example of a short-acting anticholinergic. Tiotropium is an example of a long-acting anticholinergic. Additional information regarding anticholinergics can be found in the "Autonomic Nervous System" chapter. (See Figure 5.13[1] for an image of tiotropium.)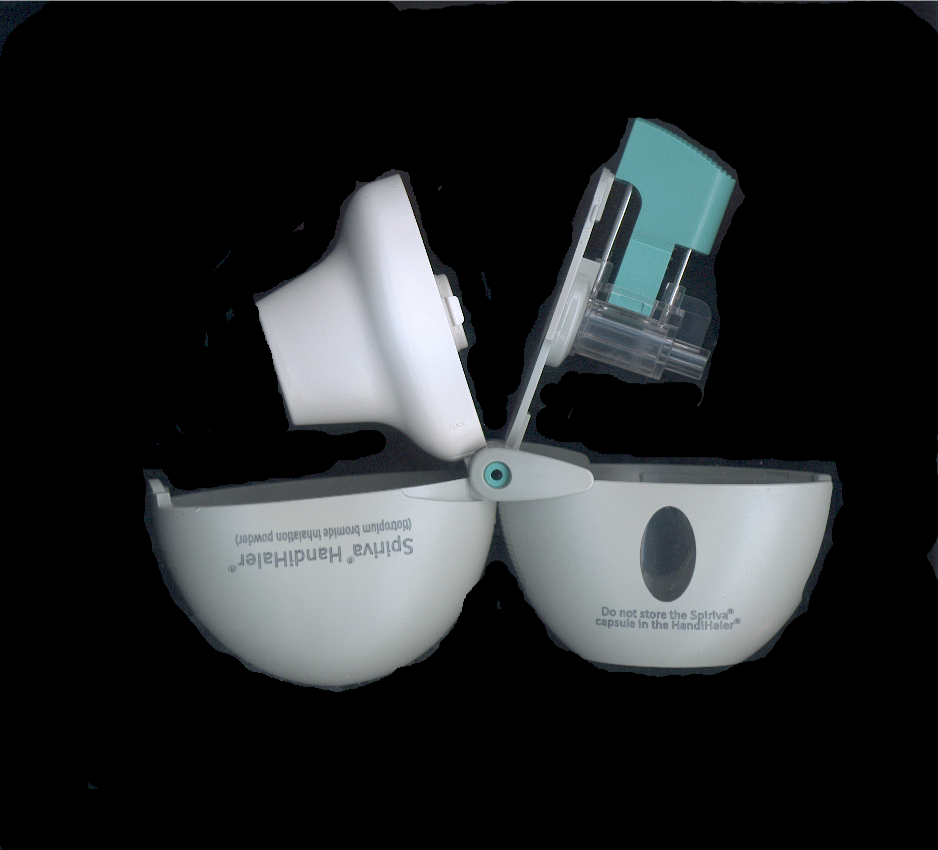 Mechanism of Action
Anticholinergics block the action of acetylcholine in bronchial smooth muscle, which reduces bronchoconstrictive substance release.
Indications for Use
Anticholinergics are used for maintenance therapy of bronchoconstriction associated with asthma, chronic bronchitis, and emphysema.
Adverse/Side Effects
Anticholinergics should be used with caution with the elderly and can cause cough, drying of the nasal mucosa, nervousness, nausea, GI upset, headaches, and dizziness.[2]
Patient Teaching & Education
Patients should be instructed to use the inhaler as directed and be careful not to exceed dosage recommendations.  They should receive education regarding the onset of medication and differences in usage for short- and long-acting anticholinergics.  Some long-acting anticholinergics may cause signs of angioedema and the healthcare provider should be notified if this occurs.[3]
Now let's take a closer look at the medication grid for ipratropium and tiotropium in Table 5.11.[4],[5], [6],[7]
Table 5.11 Ipratropium and Tiotropium Medication Grid
Class/Subclass

Prototype/Generic

Administration Considerations

Therapeutic Effects

Adverse/Side Effects

Anticholinergics (short  acting)
ipratropium
Long-term management of pulmonary disease

Slower onset of action

Rapid bronchodilation
Cough and drying of the nasal mucosa
Anticholinergics (long acting)
tiotropium
Long-term management of pulmonary disease

Slower onset of action

Prevention of bronchospasm and reduces exacerbations in COPD patients
Cough and drying of the nasal mucosa
---