consists of physically and psychologically damaging actions that occur in the workplace or while on duty. Examples of workplace violence include direct physical assaults (with or without weapons), written or verbal threats, physical or verbal harassment, and homicide.[1]
Violence committed by patients or family members toward health care staff can occur in many health care settings, so nurses must be prepared to cope effectively with agitated patients to reduce the risk of serious injury to the patient, themselves, staff, and other clients. Up to 50 percent of health care professionals are victims of violence at some point during their careers. There is a wide range of risk factors for patient violence, including the environment, a patient's social and medical history, interpersonal relationships, genetics, neurochemistry and endocrine function, and substance abuse. In the emergency department (ED), substance intoxication or withdrawal is the most common diagnosis in combative patients. Known psychiatric illness is also a risk factor for violent behavior, with schizophrenia, personality disorders, mania, and psychotic depression most often associated with violence. Psychosis, delirium, and dementia can also lead to violent behavior.[2]
Some states are introducing legislation to increase the penalties for people who commit violence against nurses, making battery to a nurse a felony instead of a misdemeanor. A recent law passed in Wisconsin in 2022 makes it a felony to threaten a health care worker.[3] See Figure 51.12[4] for an illustration related to stopping workplace violence for nurses in Wisconsin.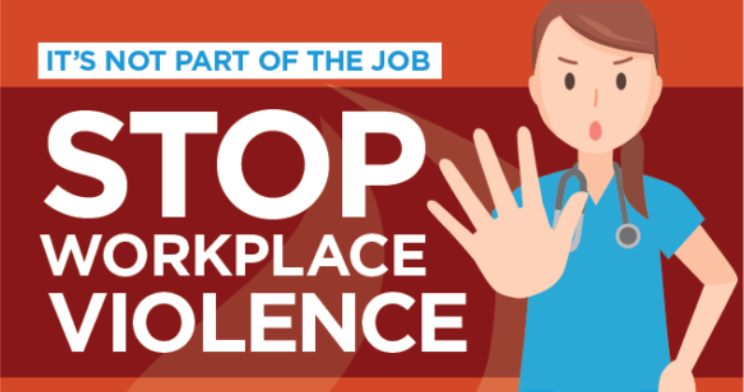 Assessment of the combative patient begins with risk assessment and attention to safety measures. Violence typically erupts after a period of mounting tension. In a typical scenario, the patient first becomes angry, then resists authority, and finally becomes confrontational. However, violent behavior may erupt without warning, especially when caused by medical illness or dementia. A nurse may identify verbal and nonverbal cues of agitation and defuse the situation before violence happens. It is helpful to observe the nonverbal communication of a client's hands as an indicator of tension. Other signs of impending violence include the following[5]:
Confrontational behavior
Angry demeanor
Loud, aggressive speech
Tense posturing (e.g., gripping arm rails tightly or clenching fists)
Frequently changing body position or pacing
Aggressive acts (e.g., pounding walls, throwing objects, or hitting oneself)
Patients who are agitated but cooperative may be amenable to verbal de-escalation techniques. Actively violent patients and uncooperative, agitated patients, particularly those who exhibit signs of impending violence, require immediate physical restraint per an agency's policy. Assume that all violent patients are armed until proven otherwise, especially those presenting to an emergency department.[6]
Verbal De-Escalation Techniques
Verbal de-escalation techniques should be attempted before physical restraints or sedative medications are implemented. During initial interactions with the patient, it will rapidly become clear whether the patient will cooperate or continue to escalate. This interaction also enables the nurse to assess the patient's mental status. If the patient remains agitated or is incapable of interacting appropriately, then restraints become necessary.[7]
When attempting to de-escalate an individual, the nurse should adopt an honest and straightforward manner. Friendly gestures can be helpful. Offer a comfortable place to sit or something to eat or drink (but not a hot liquid that could be used as a weapon) to establish trust. Many individuals will decompress at this point because offering food or drink appeals to their most basic human needs and builds trust.[8]
The nurse should demonstrate a nonconfrontational, attentive, and receptive demeanor without conveying weakness or vulnerability. A calm and soothing tone of voice should be used. Avoid direct eye contact, do not approach the patient from behind or move suddenly, and stand at least two arm's lengths away.[9] The nurse should ensure a quick exit route to the door and never allow the individual to come between them and the door. Stethoscope and badge holders should not be worn around the neck to prevent strangulation risks.
In some cases, an agitated patient may be aware of their impulse control problem and may welcome limit-setting behavior by the nurse (e.g., "I can help you with your problem, but I cannot allow you to continue threatening me or the emergency department staff"). It is difficult to predict which patients will respond to this limit-setting approach. Some patients may interpret such statements as confrontational and escalate their behavior.[10]
A key mistake when interviewing an agitated or potentially violent individual is failing to address violence directly. They should be asked relevant questions, such as, "Do you feel like hurting yourself or someone else?" and "Do you carry a gun?" Stating the obvious (e.g., "You look angry") may help them to begin sharing their emotions. Speak in a conciliatory manner and offer supportive statements to diffuse the situation, such as, "You obviously have a lot of will power and are good at controlling your emotions."[11]
A consensus statement from the American Association for Emergency Psychiatry De-escalation Workgroup describes these ten key elements for verbal de-escalation[12]:
Respect personal space: Maintain a distance of two arm's lengths and provide space for easy exit for either party.
Do not be provocative: Keep your hands relaxed, maintain a open body posture, and do not stare at the patient.
Establish verbal contact: The first person to contact the patient should take the lead in communicating.
Use concise, simple language: Avoid elaborate and technical terms because they are hard for an impaired person to understand.
Identify feelings and desires: "What are you hoping for?"
Listen closely to what the patient is saying: After listening, restate what the patient said to improve mutual understanding (e.g., "Tell me if I have this right…").
Agree or agree to disagree: Agree with clear specific truths or agree in general (e.g., "Yes, everyone should be treated respectfully.")
Set clear limits: Inform the patient that violence or abuse cannot be tolerated.
Offer choices and optimism: Patients feel empowered if they have some choice in matters.
Debrief the patient and staff.
The "philosophy of yes" is a de-escalation technique that encourages the nurse to respond affirmatively to an agitated individual. Examples of initial responses using this approach include "Yes, as soon as," "Okay, but first we need to," or "I absolutely understand why you want that done, but in my experience, there are better ways of getting what you need."[13]
However, some approaches to the combative patient are counterproductive and can lead to escalation. Arguing, condescension, or commanding the patient to calm down can have disastrous consequences. Patients often interpret such approaches as a challenge to "prove themselves." A threat to call security personnel can also invite aggression. Other potential mistakes include criticizing or interrupting the patient, responding defensively or taking the patient's comments personally, or not clarifying what the patient wants before responding.[14]
Never lie to a patient (e.g., stating "I am sure you will be out of here in no time" when this is not the case). After the lie becomes apparent, the patient may take out frustrations violently upon an unsuspecting nurse or colleague. Take all threats seriously. It is especially important not to deny or downplay threatening behavior. If verbal techniques are unsuccessful and escalation occurs, the nurse should excuse themselves and summon help.[15]
Applying Physical Restraints
Physical restraints may be used when verbal de-escalation techniques are unsuccessful despite a professional approach to the combative patient. Restraints should never be applied for convenience or punishment, and they should be removed as soon as possible, usually after adequate chemical sedation is achieved.
Restraints should be implemented systematically using an institutional protocol. The protocol typically begins after the examiner leaves the room when verbal de-escalation techniques have been unsuccessful, and assistance is summoned. It can be helpful to consider the application of restraints like a procedure, similar to running an advanced cardiac life support code.[16]
The restraint team should have at least five people, including a team leader. The leader is the only person giving orders and should be the person with the most experience implementing restraints, whether a clinician, nurse, or security officer. Before entering the room, the leader outlines the restraint protocol and warns the team of anticipated dangers (e.g., the presence of objects that may be used as weapons). All team members should remove personal effects (e.g., stethoscopes, pens, jewelry, etc.) the combative patient could use against them. If the patient to be restrained is female, at least one member of the restraint team should be female to diminish potential allegations of sexual assault.[17]
The restraint team should enter the room in force and display a professional, rather than threatening, attitude. Many violent individuals decompress at this point because the show of force protects their ego (e.g., "I would have fought back, but there were too many against me"). The leader speaks to the patient in a calm and organized manner, explaining why restraints are needed and what the course of events will be (e.g., "You will receive a medical and psychiatric examination, as well as treatment"). The patient is instructed to cooperate and lie down to have restraints applied. Some patients will be relieved at the protection to self and others afforded by restraints when they feel themselves losing control. However, even if the patient suddenly appears less dangerous, physical restraints must be placed after the decision to use them has been made; do not negotiate with the patient at this point.[18]
If it becomes necessary to use force to control the patient, one team member restrains a preassigned extremity by controlling the major joint (e.g., knee or elbow). This can be accomplished by locking the major joint in extension. The team leader controls the head. If the patient is armed with a makeshift weapon, two mattresses can be used to charge and immobilize or sandwich the patient. Restraints are applied securely to each extremity and tied to the solid frame of the bed (not side rails because later repositioning of side rails also repositions the patient's extremity). To prevent their lower extremities from flailing independently, it may be best to cross the legs at the ankle and then attach the restraint to the bed frame on the opposite side.[19]
Leather is the optimal material for restraining a combative patient because it is strong, prevents escape, and is less constricting than typical soft restraints. Gauze should not be used. Soft restraints are helpful in restricting extremity use in a semi-cooperative patient but are less effective in a truly violent patient who continues to struggle. If chest restraints are used, it is vital to ensure adequate chest expansion for ventilation. Never apply pressure to the client's chest or back while they are immobilized due to asphyxiation risk. After the patient is immobilized, announcing "The crisis is over" can have a calming effect on the restraint team and the patient.[20]
After restraints have been applied, the patient should be monitored frequently and their position changed regularly to prevent circulatory obstruction, pressure injuries, and paresthesias, as well as to avoid rhabdomyolysis associated with continued combativeness. A standardized form based on agency policy is typically used for documentation. Documentation should include the specific indication for restraints and alternatives attempted. In addition to monitoring, nurses must ensure that basic needs (e.g., hydration, food, toileting) are met for any patient who is physically restrained or chemically sedated. Physical restraints should be removed as soon as possible.[21]
Chemical Sedation
Chemical sedation may be necessary, with or without physical restraints, in a combative patient who does not respond to verbal de-escalation techniques. The ideal sedative medication for an agitated or violent patient is rapid-acting with minimal side effects. The major classes of medications used to control the violent or agitated patient include benzodiazepines, first-generation (typical) antipsychotics, second-generation (atypical) antipsychotics, and ketamine[22]:
For severely violent patients requiring immediate sedation, a rapid-acting first-generation antipsychotic (e.g., haloperidol or droperidol), benzodiazepine (e.g., midazolam), or a combination of both may be prescribed. Second-generation antipsychotics, such as olanzapine, risperidone, and ziprasidone may also be prescribed.
For patients with agitation from drug intoxication or withdrawal from an unknown cause, benzodiazepines are typically prescribed. Lorazepam and midazolam are used most often. Benzodiazepines may cause respiratory depression and excessive sedation, so close monitoring is essential after administration.
Ketamine may be prescribed when initial treatments with benzodiazepines or antipsychotics have failed, especially in patients with excited delirium. However, clients receiving ketamine have increased risk for respiratory distress and may require endotracheal intubation and mechanical ventilation.
Post-Restraint Evaluation
After the patient is restrained, the cause of their agitation will be evaluated to determine if it is medical, psychiatric, or substance-use related. Patients over the age of 40 with new psychiatric symptoms are likely to have a medical cause. Elderly patients are at higher risk for delirium due to medical illness (such as a urinary tract infection) or adverse reactions to medications. Patients with a history of drug or alcohol use disorder may exhibit violent behavior as a manifestation of an intoxication or withdrawal syndrome. Violent behavior unrelated to medical illness, drug intoxication, or withdrawal should be followed by psychiatric consultation and evaluation.[23]
Defense Against Assault
Physical assault may occur despite appropriate precautions and interventions with a violent individual. If assaulted, immediately summon help. Maintain a sideward posture, keeping the arms ready for self-protection. If faced with an oncoming punch or a kick, deflect with an arm or a leg. If choking is attempted, tuck in the chin to protect the airway and carotid arteries. If bitten, do not pull away, but rather push toward the mouth and hold the nares shut to entice the opening of the mouth.[24] In a similar manner, don't pull away if your hair is pulled, but instead pull the client's hand toward your head and push up to bend their wrist backwards and increase the likelihood of them releasing their grip due to pain.
If threatened with a weapon, try to appear calm and comply with the individual's demands. Adopt a nonthreatening posture and avoid sudden movements. Do not attempt to reach for the weapon. Avoid arguing, despair, or whining. If taken hostage, attempt to establish a human connection with the hostage taker because there is less risk of violence if a relationship has been established. Do not bargain, make promises, or lie because the consequences could be disastrous. Reassure the hostage taker that an authorized person should arrive promptly to hear their complaints or demands. If a weapon is put down, do not reach for it, but rather attempt to verbally resolve the crisis while awaiting arrival of law enforcement.[25]
Every hospital should have a written plan of action to implement in the case of extreme violence. The plan should include prevention and safety measures, a means for rapid notification of security and police personnel, evacuation plans, medical treatment, and crisis intervention. A novel approach uses a trained violence management team to provide a mechanism for dealing with aggressive patients and to protect the staff.[26]
Mandatory training for clinical and non-clinical staff must also be incorporated with written plans of action. This multifaceted approach improves nurses' self-perception and confidence against workplace violence.[27]
Interpersonal Conflict Among Health Care Team Members
Conflict is inevitable when working on a health care team composed of members with different personalities, roles, and responsibilities. Some conflicts among some team members can escalate to verbal threats or harassment. Common sources of interpersonal conflict in health care settings are passive-aggressiveness, horizontal aggression, defensiveness, peer informer behavior, and victimization behaviors. It is essential for all nurses to develop conflict resolution skills to effectively address these behaviors and maintain a safe work environment.
Read more information about interpersonal conflict and conflict resolution skills in the "Conflict Resolution" section of the "Collaboration Within the Interprofessional Team" chapter of Open RN Nursing Management and Professional Concepts.
---
The act or threat of violence, ranging from verbal abuse to physical assaults directed toward persons at work or on duty.