12.4 Autism Spectrum Disorder
Autism spectrum disorder (ASD) is a developmental disorder that affects an individual's communication and behavior. Although autism can be diagnosed at any age, it is classified as a developmental disorder because symptoms generally appear in the first two years of life.[1] An average of 2.3% of children in the United States have ASD.[2]
ASD is characterized by the following[3]:
Difficulty with communication and interaction with other people
Restricted interests and repetitive behaviors
Symptoms that hurt the person's ability to function properly in school, work, and other areas of life
Autism is known as a "spectrum" disorder because there is wide variation in the type and severity of symptoms experienced by individuals. ASD occurs in all ethnic, racial, and economic groups. Although ASD is a lifelong disorder, treatments and services can improve a person's symptoms and ability to function.[4] See Figure 12.7[5] for an image depicting a child coping with the symptoms of autism.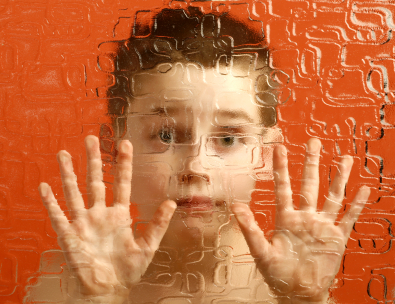 Signs and Symptoms
People with ASD have difficulty with social communication and interaction, experience restricted interests, and exhibit repetitive behaviors. Here are some examples of behaviors in these categories:
Social Communication/Interaction Behaviors[6]:
Making little or inconsistent eye contact
Not looking at or listening to people
Rarely sharing enjoyment of objects or activities by pointing or showing things to others
Being slow to respond (or failing to respond) to someone calling one's name
Having difficulties with the back-and-forth nature of a conversation
Talking at length about a favorite subject without noticing that others are not interested or without giving others a chance to respond
Exhibiting facial expressions, movements, and gestures that do not match what is being said
Using a tone of voice that may sound flat and robot-like
Having trouble understanding another person's point of view or being unable to understand other people's actions
Restricted Interests or Repetitive Behaviors[7]:
Repeating certain behaviors or exhibiting unusual behaviors, such as repeating words or phrases (i.e., )
Having a lasting intense interest in certain topics, such as numbers, details, or facts
Having overly focused interests, such as with moving objects or parts of objects
Getting upset by slight changes in a routine
Being more or less sensitive than other people to sensory input, such as light, noise, clothing, or temperature

This sensitivity can present as physical touch, like a hug, actually being experienced as painful. Items such as seams on pants can be overwhelming and extremely agitating.
Although people with ASD experience many challenges, they also tend to have many strengths, including these strengths[8]:
Being able to learn things in detail and remember information for long periods of time
Being strong visual and auditory learners
Excelling in math, science, music, or art
Causes and Risk Factors
Research suggests that genes can act together with influences from the environment to affect development in ways that can lead to ASD. Risk factors include the following[9]:
A sibling with ASD
Older parents at birth
Genetic conditions such as Down syndrome and Fragile X syndrome
Very low birth weight
Treatments
Current treatments for ASD seek to reduce symptoms that interfere with daily functioning and quality of life. ASD affects each person differently, meaning that people with ASD have unique strengths and challenges and thus different treatment needs. Treatment plans typically involve multiple professionals with interventions customized to the individual.[10]
As individuals with ASD exit high school and grow into adulthood, additional services can help improve their health and daily functioning and facilitate social engagement. Supports may be provided to complete job training, find employment, and secure housing and transportation.[11]
There are many categories of treatments available, and some treatments involve more than one approach. Treatment categories include the following[12]:
Behavioral
Developmental
Educational
Social-Relational
Pharmacological
Psychological
Complementary and Alternative
Behavioral Approaches
Behavioral approaches focus on changing an individual's behaviors by promoting understanding of what happens before and after the behavior. A notable behavioral treatment for people with ASD is called applied behavior analysis. Applied behavior analysis encourages desired behaviors and discourages undesired behaviors to improve a variety of skills, and progress is tracked and measured.[13]
Developmental Approaches
Developmental approaches focus on improving specific developmental skills, such as language skills or physical skills. Developmental approaches are often combined with behavioral approaches. The most common developmental therapy for people with ASD is speech and language therapy. Speech and language therapy helps improve the person's understanding and use of speech and language. Some people with ASD communicate verbally. Others with severe symptoms of ASD may communicate through the use of signs, gestures, pictures, or an electronic communication device.[14]
Occupational therapy teaches skills to help the person live as independently as possible. Skills may include dressing, eating, bathing, and relating to other people. Occupational therapy can also include sensory integration therapy to help improve responses to sensory input that may be restrictive or overwhelming.[15]
Physical therapy may be implemented to help improve physical skills, such as fine movements of the fingers or larger movements of the trunk and body.[16]
Educational Approaches
Educational treatments are provided in a classroom setting. One type of educational approach is the Treatment and Education of Autistic and Related Communication-Handicapped Children (TEACCH) approach. TEACCH is based on the idea that people with autism thrive on consistency and visual learning. It provides teachers with ways to adjust the classroom structure to improve academic and other outcomes. For example, daily routines can be written and placed in clear sight, boundaries can be set around learning stations, and verbal instructions can be complemented with visual instructions or physical demonstrations.[17]
Social-Relational Approaches
Social-relational treatments focus on improving social skills and building emotional bonds. For example, "social stories" provide simple descriptions of what to expect in a social situation. "Social skills groups" provide opportunities for people with ASD to practice social skills in a structured environment.
Pharmacological Approaches
There are no medications used to treat ASD, but medications may be used to treat symptoms and improve functioning. For example, medication may be used to manage high energy levels, improve focus, or limit self-harming behavior, such as head banging or hand biting. Medication may also be used to treat concurrent psychological and medical conditions, such as anxiety, depression, seizures, or sleep problems.[18]
Psychological Approaches
Psychological approaches can help people with ASD cope with anxiety, depression, and other mental health issues. For example, cognitive behavioral therapy (CBT) helps individuals focus on the connections between their thoughts, feelings, and behaviors. During CBT a therapist and the individual work together to identify goals and change how the person thinks about a situation to change how they react to the situation.[19]
Complementary and Alternative Treatments
Some individuals with autism use special diets, herbal supplements, chiropractic care, animal therapy, art therapy, mindfulness, or relaxation therapies.[20] Treatment is most effective when tailored to the individual, and additional enriching therapies can help individuals with ASD to thrive.
To find resources related to caring for children with autism, go to the Autism Society.
---
Pathological repetition of another person's words.