14.8 Prevention of Substance Use Disorders
The misuse of alcohol and drugs and substance use disorders has a significant impact on public health in the United States. The Centers for Disease Control and Prevention (CDC) reports over 100,000 drug overdose deaths occurred in the United States in 2021, and overdose deaths in urban and rural populations have shown a significant upward trend over the past 20 years.[1] See Figure 14.11[2] for a graphic of overdose rates in urban and rural areas.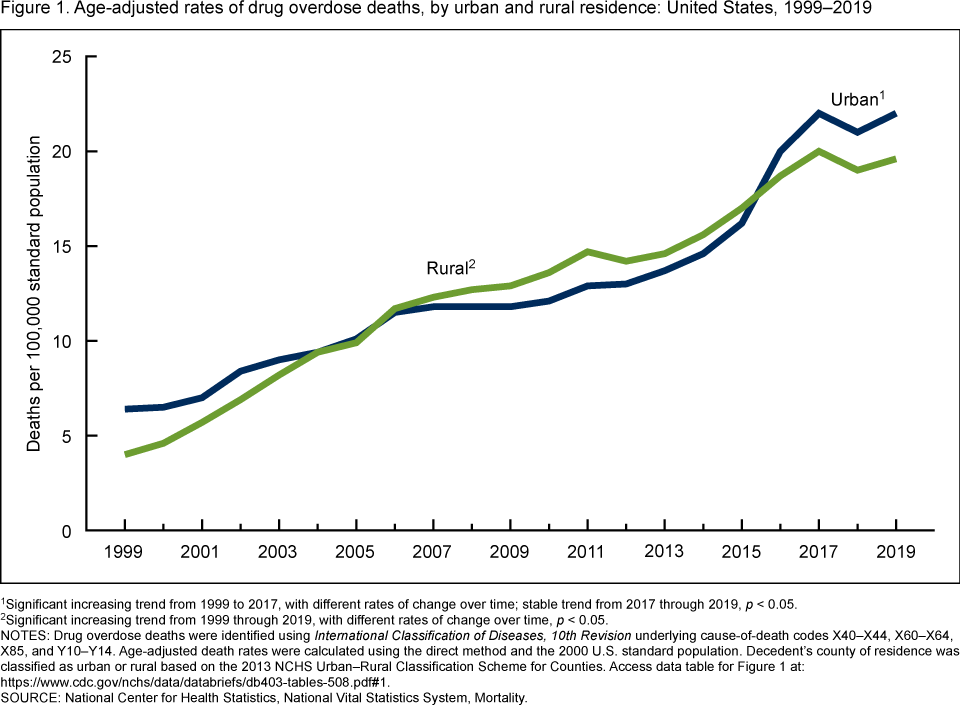 Substance misuse is associated with a wide range of health and social problems, including heart disease, stroke, high blood pressure, various cancers (e.g., liver, lung, and colon cancer), mental health disorders, neonatal abstinence syndrome, driving under the influence (DUI) injuries and fatalities, incarcerations, sexual assaults and rapes, unintended pregnancies, sexually transmitted infections, and bloodborne pathogens like hepatitis and human immunodeficiency virus (HIV).[3] Given the impact of substance misuse on public health, it is critical to implement preventative interventions to stop substance misuse from starting, as well as to identify and intervene early with individuals who have already begun to misuse substances.
Promoting Protective Factors
Experiencing a family member's substance use disorder is considered an adverse childhood event (ACE) that can impact a child's risk for developing behavioral problems, substance misuse, and chronic illness. Targeted prevention programs implemented at the family, school, and individual levels can complement broader population-level policies by promoting protective factors for children and adolescents.
Protective factors help prevent substance use disorders from developing despite the presence of risk factors. Protective factors exist at the individual, family, school, and community levels.
Examples of interventions to promote protective factors at the individual level include the following[4]:
Social, emotional, and behavioral competence: Promoting interpersonal skills that help youth integrate feelings, thoughts, and actions to achieve specific social and interpersonal goals.
Self-efficacy: Enhancing an individual's belief that they can modify, control, or abstain from substance use.
Spirituality: Supporting beliefs in a higher being or involvement in spiritual practices or religious activities.
Resiliency: Encouraging an individual's capacity for adapting to change and coping with stressful events in healthy and flexible ways.
Interventions to promote protective factors at the family, school, and community levels are as follows[5]:
Opportunities for positive social involvement: Creating developmentally appropriate opportunities to be meaningfully involved with the family, school, or community.
Recognition for positive behavior: Providing community and family recognition of individuals' efforts and accomplishments to encourage positive future behaviors.
Bonding: Promoting attachment, commitment, and positive communication with family members, schools, and communities.
Marriage or committed relationships: Encouraging committed relationships with people who do not misuse alcohol or drugs.
Healthy beliefs and standards for behavior: Establishing family, school, and community norms that communicate clear and consistent expectations about not misusing alcohol or drugs.
Prevention Interventions
The Institute of Medicine describes three categories of prevention interventions: universal, selective, and indicated. Universal interventions are aimed at all members of a given population, selective interventions are aimed at a subgroup determined to be at high-risk for substance use, and indicated interventions are targeted for individuals who are already misusing substances but have not developed a substance use disorder. Examples of evidence-based prevention interventions for each category are provided in the following subsections.
Universal Interventions
Universal interventions include policies that affect the entire population, such as the setting the minimum legal drinking age or reducing the availability of substances in a community. For example, laws targeting alcohol-impaired driving, such as license revocation for impaired driving and 0.08 legal blood alcohol (BAC) limits have helped cut alcohol-related traffic deaths per 100,000 in half since the early 1980s.[6]
Several family-focused, universal prevention interventions show substantial preventive effects on substance use. Two examples are the Strengthening Families Program and the I Hear What You're Saying program[7]:
Strengthening Families Program (SFP): A widely used seven-session, family-focused program that enhances parenting skills, such as nurturing, setting limits, and communicating, as well as promoting adolescents' skills in refusing substances. Across multiple studies conducted in rural United States communities, SFP showed reductions in tobacco, alcohol, and drug use up to nine years after the intervention (i.e., to age 21) compared with youth who were not assigned to the SFP. SFP also shows reductions in prescription drug misuse up to 13 years after the intervention (i.e., to age 25). Strong African American Families, a cultural adaptation of SFP, shows reductions in early initiation and rate of alcohol use for Black or African American rural youth.
I Hear What You're Saying: An Internet-based program that involves nine 45-minute sessions to improve communication, establish family rules, and manage conflict. Specifically focused on mothers and daughters, follow-up results showed lower rates of substance use in an ethnically diverse sample.[8]
Selective Interventions
Selective interventions are delivered to particular communities, families, or children who, due to exposure to risk factors, are at increased risk of substance misuse problems. Target audiences may include families living in poverty, the children of substance-misusing parents, or children who have difficulties with social skills. Selective interventions deliver specialized prevention services to individuals with the goal of reducing identified risk factors, increasing protective factors, or both. Examples of selective intervention programs are the Nurse-Family Partnership, Familias Unidas, and Brief Alcohol Screening and Intervention for College Students[9]:
Nurse-Family Partnership: A program focused on children younger than age 5 has shown significant reductions in the use of alcohol in the teen years compared with those who did not receive the intervention. Trained nurses provide an intensive home visitation intervention for at-risk, first-time mothers during pregnancy. This intervention provides ongoing education and support to improve pregnancy outcomes, infant health, and development of parenting skills.[10]
Familias Unidas: A family-based intervention for Hispanic or Latino youth that includes both multi-parent groups (eight weekly 2-hour sessions) and four to ten 1-hour individual family visits. It has been shown to lower substance use or delay the start of substance use among adolescents.[11]
Brief Alcohol Screening and Intervention for College Students (BASICS): A brief motivational intervention designed to help students reduce alcohol misuse and negative consequences of their drinking. It consists of two 1-hour interviews with a brief online assessment after the first session. The first interview gathers information about alcohol consumption patterns and personal beliefs about alcohol while providing instructions for self-monitoring drinking between sessions. The second interview uses data from the online assessment to develop personalized, normative feedback that reviews negative consequences and risk factors, clarifies perceived risks and benefits of drinking, and provides options for reducing alcohol use and its consequences. Follow-up studies of students who used BASICS have shown reductions in the quantity of drinking in the general college population, as well as fraternity members.
Indicated Prevention Interventions
Indicated prevention interventions are directed to those who are already involved in substance misuse but who have not yet developed a substance use disorder. An example of an indicated prevention intervention is Coping Power, a 16-month program for children in Grades 5 and 6. The program uses skills-based training to increase social competence, self-regulation, and positive parental involvement. Results include reduced substance use, delinquency, and aggressive behaviors.[12]
---